Eleven projects have been recommended for funding by the National Oceanic and Atmospheric Administration 's National Estuarine Research Reserve System (NERRS) Science Collaborative.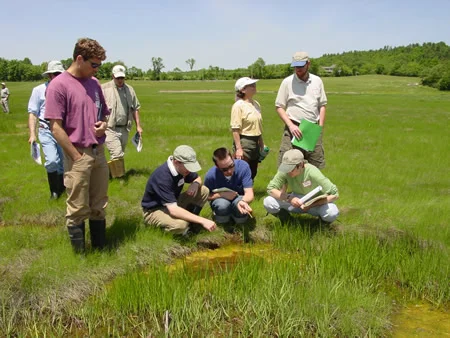 The $1.7 million investment will catalyze collaborative science involving 19 estuarine reserves across the nation. Final funding approval is contingent upon completion of environmental compliance reviews for each project.
The catalyst grants will advance collaborative science by facilitating the development of new collaborative science ideas; expanding the impact of existing collaborative research efforts; or synthesizing NERRS System Wide Monitoring Program (SWMP) data for a regional or national application. All projects demonstrate strong potential to yield benefits within a one-year timeline.
Projects recommended for funding to NOAA will tackle a range of timely and important coastal issues:
Climate Adaptation
Four projects will help coastal communities prepare for flooding and other risks associated with climate change, by refining existing planning tools for use in New Jersey, evaluating options for vulnerable roads around San Francisco Bay, studying the potential use of storm surge barriers in New York, and fostering the use of metrics to track preparedness across the country.
Ecosystem Services
Two projects will promote habitat restoration and protection by producing ecosystem service models relevant to coastal habitats and advancing the use of blue carbon financing for habitat projects in the Pacific Northwest.
Marsh Resilience
Three projects will inform wetland management by developing new ways to track and visualize changes to marshes affected by sea level rise using long-term data from multiple estuaries and, in Florida, developing high-resolution habitat maps.
Oyster Management
Two projects will enhance oyster management by refining modeling tools for commercially harvested oysters in Florida, and fostering a network of restoration and research partners along the West Coast.
See the full list of projects below. To view the project list and summaries, download the PDF
"This is a collection of timely and impactful projects for our coasts, " said Dr. Jennifer Read, Director of the University of Michigan (U-M) Water Center and coordinator of the NERRS Science Collaborative, supported by NOAA. "These projects are relatively short in duration but by spurring new ideas and collaborations, taking already valuable work to the next level, or making use of long-term monitoring data, project teams are forging ahead with critical research and developing tools that we know will be used. "
Science Collaborative projects integrate decision-makers and other end users into each project to ensure that products are able to help address current coastal management issues. Over the course of the project period, teams will have access to Science Collaborative support and resources, including experts in collaborative research design and implementation and data management.
---
2018 Collaborative Science Catalyst Projects*
Project Lead and Affiliation
Project Title
Participating Reserve(s)

Lisa Auermuller, Jacques Cousteau NERR

Enhancing coastal resilience decision-support tools to reflect latest local, applied science
Jacques Cousteau (NJ)

Dani Boudreau, Tijuana River NERR

Facilitation tools, techniques, and tactics: Advancing local adaptation and evaluation dialogues throughout the NERRS

Tijuana River (CA), Kachemak Bay (AK), Jacques Cousteau (NJ), Wells (ME)

David Burdick, University of New Hampshire

Synthesizing NERR Sentinel Site data to improve coastal wetland management across New England
Wells (ME), Great Bay (NH), Waquoit Bay (MA), Narragansett Bay (RI)

Craig Cornu, Institute for Applied Ecology

Feasibility planning for Pacific Northwest blue carbon finance projects
Padilla Bay (WA), South Slough (OR)

Kimberly Cressman, Grand Bay NERR

Is marsh surface tracking sea level change? Developing tools and visualizations for NERRS Sentinel Site Data

Grand Bay (MS), Chesapeake Bay (VA), Delaware (DE), Elkhorn Slough (CA), Mission-Aransas (TX), Padilla Bay (WA), South Slough (OR), Waquoit Bay (MA)

Frank Muller-Karger, University of South Florida

Mapping terrestrial and benthic habitat change to address mangrove and seagrass migration and die-off in response to recent and long-term environmental drivers
Rookery Bay (FL)

Lydia Olander, Duke University

Exploring applications of ecosystem service conceptual models for coastal habitats
North Carolina (NC), Rookery Bay (FL)

Philip Orton, Stevens Institute of Technology

Catalyzing a deeper understanding of the effects of storm surge barriers on the Hudson River estuary
Hudson River (NY)

Stuart Siegel, San Francisco Bay NERR

Bringing together end users and stakeholders to identify and evaluate sea level rise adaptation options to solve road flooding in China Camp State Park
San Francisco Bay (CA)

Kerstin Wasson, Elkhorn Slough NERR

Building a coastwide Olympia oyster network to improve restoration outcomes and enhance community engagement
Elkhorn Slough (CA), Padilla Bay (WA), South Slough (OR), San Francisco Bay (CA), Tijuana River (CA)

Wilson White, Oregon State University

Stakeholder-driven modeling investigation of factors affecting oyster population sustainability
Guana Tolomato Matanzas (FL)
* These projects have been recommended to NOAA for funding; grant awards are contingent upon the findings of NOAA environmental compliance reviews.
The National Estuarine Research Reserve System 's Science Collaborative supports collaborative research that addresses coastal management problems important to the reserves. The Science Collaborative is managed by the University of Michigan 's Water Center through a cooperative agreement with the National Oceanic and Atmospheric Administration (NOAA). Funding for the research reserves and this program comes from NOAA. Learn more at coast.noaa.gov/nerrs or nerrssciencecollaborative.org.