The Science Collaborative 's mission is to support collaborative research that addresses coastal management issues important to the National Estuarine Research Reserve System (NERRS) and that strengthens the reserve system 's ability to impact coastal management and decision making. We achieve our mission through competitive funding opportunities as well as other program elements that support the reserves, potential applicants and project teams.
---
Program Overview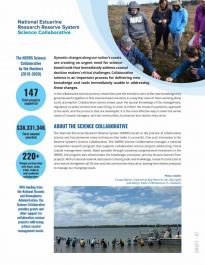 The National Estuarine Research Reserve System (NERRS) excels at the practice of collaborative science and has pioneered many techniques that make it successful. One such innovation is the Reserve System 's Science Collaborative. The NERRS Science Collaborative manages a national competitive research program that supports collaborative science projects addressing critical coastal management needs. Made possible through sustained congressional investment in the NERRS, the program also disseminates the knowledge, processes, and key lessons learned from projects. With a national network dedicated to sharing tools and knowledge, research conducted at one reserve strengthens all 30 sites and the communities they serve, leaving them better prepared to manage our changing coasts.
The Science Collaborative provides grants and other support for collaborative science projects addressing critical coastal management needs. Initially hosted by the University of New Hampshire, the Science Collaborative is currently managed by the University of Michigan 's Water Center, which is part of the Graham Sustainability Institute. The program is funded by the National Oceanic and Atmospheric Administration through a cooperative agreement with the University.
View/download the program overview factsheet to learn more about the NERRS Science Collaborative Program.
---
Science Collaborative program activities fall into five categories.
Competitive Funding Opportunities
With funding from NOAA, the Science Collaborative is an important mechanism for supporting competitive, end-user driven research in the reserve system. A core part of our work is designing annual requests for proposals (RFPs) and managing review processes to select strong projects aligning with the program 's mission and mandate. As a program, we award an average of $3 million in competitive grants each year for user-driven collaborative research, assessment, and transfer activities that address critical coastal management needs identified by the reserves.
Proposal Development Support
Successful collaborative science projects require careful planning, teams with the right skill sets, and in-depth knowledge of the science and management context. We have a few mechanisms to support the reserve system as they build teams and develop proposal ideas, including partner engagement funds (up to $1K per reserve) to support convenings during an open RFP period, capacity building funds (up to $10K per reserve) to support project scoping in advance of an RFP, as well as a variety of online applicant resources.
Support for Projects
We provide personalized oversight and support for teams that receive grants through the Science Collaborative. Our approach is based on our own experience supporting and conducting end user-focused research and includes opportunities for learning and adapting. We provide support to maximize project impact through: 1) a strong relationship with project leads; 2) regular and meaningful reporting; and 3) convening project teams for collaboration and transfer. This approach helps teams connect across projects, share challenges and lessons learned, and identify areas for additional support. The program provides some additional support for collaborative processes and data management.
Communications Support
We also offer support to help Science Collaborative teams strengthen their communications work, for example by helping to develop factsheets, graphics, and project web pages. In addition, we seek opportunities to share findings and lessons emerging from projects with a broader audience of coastal managers regionally and nationally through targeted web features, special sessions at conferences, and the program 's webinar series, Collaborative Science For Estuaries.
Applied Research
We have established a variety of mechanisms for programmatic learning and improvement. For example, the Science Collaborative team conducts research on science usability, which then informs program activities such as RFPs and the development of tools for understanding impact. Knowing that the reserve system seeks to deepen its support for local climate adaptation efforts, members of our team launched the Successful Adaptation Indicators and Metrics project, which directly engages interested reserves. These applied research efforts, along with regular feedback processes, have enabled us to make important improvements in our competitive funding opportunities and project management activities.